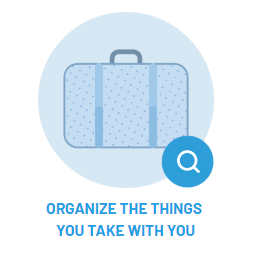 Information on hold baggage
It is important to label your baggage inside and out with your personal data (name, surname, address and telephone number) and to remove any tags from previous trips. Your baggage must never be left unattended in the terminal and it is also strictly forbidden to transport baggage, objects and packages on behalf of other people. Contact your airline if you are carrying any special baggege. Some examples are listed below. The airline should be notified in case of transport of special baggage items, at the time of booking.
Bulky or fragile baggage
Bulky or fragile baggage items can be placed on the seat next to your own. In this case an additional seat must be booked and purchased.
Weapons and ammunition
In accordance with the safety regulations, no firearms, cutting weapons or objects that can be used as weapons will be allowed to enter the country unless accompanied by a valid permit issued by the competent authorities in the traveller's area of residence. For departure, when you present yourself at the airport check-in counter with the documents regarding the weapons to be checked, you will be given a form to fill out and take to the Police office for the necessary authorization. The weapons custody service to/from the aircraft is mandatory on all airlines and must be paid for by the passenger at the cost of 40€. It is recommended to check with the airline in advance with regard to the applicable regulations.
Sports and musical equipment
The following items are considered sports and musical equipment:
bicycles (packed, with handlebars and pedals folded)
surfing and windsurfing boards (packed), skis, snowboards and golf clubs
hunting rifles and ammunition (the cartridges, in appropriate containers, must not exceed 5 kg)
diving equipment (with tanks empty and flashlights not containing batteries)
fishing equipment
musical instruments (if the instrument does not exceed one meter in length, it can be taken on board as carry-on baggage. If it exceeds the permitted size, it must be checked and, for its own protection, stored in a sufficiently rigid container).
Prohibited items
It isstrictly forbidden to transport the following items:
underwater torch with inserted batteries
objects constituting improper weapons
explosive substances (fireworks, rockets)
torches
containers with gas (irritant gases, self-defense sprays, camping stoves)
corrosive (acids, alkaline solutions / bases, acid batteries)
explosive ammunition
flammable liquids and solids (gasoline for lighters, colors, paints, detergents)
radioactive materials
oxidizing materials
poisons and infectious substances (mercury, bacteria and virus cultures)
strongly magnetic materials
improper weapons
lithium batteries (permitted in the carry-on baggage)
Information on carry-on baggage
Each passenger is permitted one piece of carry-on baggage, the total dimensions of which must not exceed 115 cm. Airlines can apply more restrictive measures that limit both the quantity and size of hand luggage. Remember to separate liquids (LAG) and large electronic items (ex. pc, tablet), before screening.
Prohibited items
Weapons and firearms
devices to stun or immobilize
sharp objects
work tools that can be used to injure
blunt instruments
explosive and incendiary substances and devices
Regulation on LAG
While there are no restrictions on the liquids that can be contained in checked baggage (the one left at the check-in to be picked up at the final destination), your carry-on baggage, or rather that which you present for inspection at the airport security checkpoint, may only contain small quantities of liquids. These liquids must be in individual containers with a maximum volume of 100 millilitres (1/10 of a litre) or equivalent (i.e. 100 grams) and these containers must be contained in a transparent re-sealable plastic bag with a maximum volume of 1 litre (i.e. about 18 x 20 cm, for example). The bag must be able to be closed with its contents inside (or rather, the containers must be able to fit inside the sealed bag). Each passenger (including children under 2 years of age) is only permitted to transport one plastic bag of the dimensions indicated above. Liquids to be used during the trip for medical purposes or special dietary requirements (without the obligation for accompanying prescription), including foods for infants, may be transported outside of the bag, and are not subject to volume limitations. Any prescription drugs must be accompanied by a medical prescription bearing the passenger's name.
Liquids, sprays and gels includes:
Water and other drinks, soups and syrups
Creams, lotions and oils
Perfumes
Sprays
Gels, including hair and shower gels
Containers under pressure, including shaving cream, other creams and deodorants
Pastes, including toothpaste
Mixtures of liquids and solids
Any other item of similar consistency (i.e. mascara)
with any large electrical/electronic devices removed from their carry-on bag
click here to download ENAC recommendation on baggage
Click here to download EASA disclosure on lithium batteries